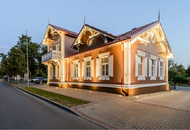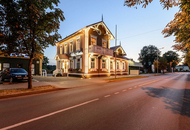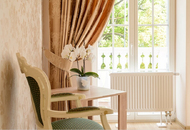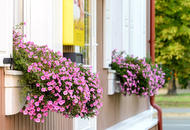 Rules of residence
Villa "Arnika" is located at the beautiful heart of Druskininkai, near the Lake Druskonis and Lithuanian cuisine restaurant "Etno Dvaras".
The city beach is just nearby. Cosy and stylish Villa "Arnika" is established with the idea to protect historical and cultural heritage. It offers 7 standard rooms and can accommodate 14 guests (up to 17 guests with extra sleeping armchairs for children are added). Artistically arranged rooms include large-sized beds with soft mattresses, writing tables and wardrobes, flat screen TVs and bathrooms with shower and complimentary toiletries. Two rooms on the top floor also feature spacious balconies. Five commodious and convenient rooms will let you experience homelike cosiness and warmth inflamed by their atmosphere and interior. Every single room is designed to make your relaxation pleasing and comfortable.
Villa "Arnika" is conveniently located for those, who are willing to visit major attractions. It only takes 7 minutes to walk to Druskininkai recreation and health center "Aqua" and 6 minutes to drive to winter sports center "Snow Arena". The city bus station is within 1 km. And it takes only 5 minutes to walk from Villa "Arnika" to various SPA centers and restaurants.
Our guests can order individual breakfast at the nearby Lithuanian cuisine restaurant "Etno Dvaras". Our guests can enjoy 15% discount for lunch, dinner and various celebrations at the restaurant (discount rates do not apply for alcohol beverages).
---
Reception of "Vila Arnika" is opened from 9.00 to 18.00.
Arrival time: from 2:00 pm
Departure time: before 12:00 noon
If you are planning to arrive during the closing hours, you will find the keys from your apartment in the locker and you will receive a code by a text message to your phone.
---
Children and extra beds
Children under age of 3 can stay free of charge, unless extra bed is needed. Children over 3 years and adults shall be charged EUR 17 per person per night for an extra bed.
---
Internet
For free! Free Wi-Fi internet connection is available in the whole building.
---
Parking
For free! Car can be parked for free in the private parking space of the Villa "Arnika" (reservation is not needed).
---
Payment in cash or by card
We accept these credit cards: AMERICAN EXPRESS, VISA, VISA Electron, MASTERCARD, MAESTRO.
---
Pets
Pets are not allowed.
---
Smoking
We have a non-smoking policy
---
Other services
For your convenience a shared kitchen of Villa "Arnika" is equipped with a fridge, microwave, electric kettle, a set of dishware, as well as free tea and coffee.
Villa "Arnika" also accommodates a beauty salon and massage salon with skilled professionals, cosy and warm atmosphere. These salons offer various facial treatments and massage procedures performed by professionals. Our guests can savour these pleasures for a reasonable price without even leaving the house.
---
Billing details:
UAB "Dzūkijos Arnika" (Ltd.)
Gardino Str. 55, LT-66191 Druskininkai
Company code 152043388
VAT No LT520433811
IBAN: LT867300010002220487
"SWEDBANK" AB, bank code 73000
SWIFT code: HABALT22